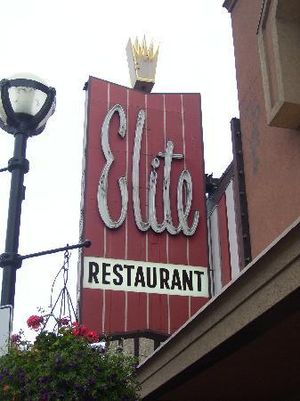 I headed out to B.C. for a few dates before cutting south to Nashville. Dylan came with me and played lap-steel. We played in Banff, Penticton, Kelowna and Kamloops. It was a good feeling to be back on the road and in such a beautiful part of the world. Our friend Andrea decided last-minute to drive out to Banff and join us for the jaunt. We are pretty weathered road-warriors and she fit in like a champ. 
The shows were all good and I met some really kind and interesting people. We generally don't ever have a place to stay and just kind of throw it out there on stage. I've been overwhelmed by the kindness of strangers lately. The venue we played at in Penticton was amazing. It's called Elite After 6 and it is a retro diner by day and a live culture hub by night. They have the best hot sauce I have ever had in my entire life, the best part is that it is made locally. They took great care of us and then we crashed at a local fellow's house named Chris. He had to fly to the airport early the next morning so he just trusted us to leave when we woke up and were ready. Such a nice guy. There's still a lot of kindness in the world and we left Penticton feeling pretty positive.
Kelowna is always great because we crash at our friend Lauren and Robyn's house. They are laid back hippy girls who go to school there. They always bring friends and offer us a lot of support and hospitality. It was fun to hang with them. So much laughter, always laughing.
I had one of those moments when I was driving from Kelowna to Kamloops. I took a quiet highway through the trees and it was perfect. Dylan and Andrea were asleep so I just kept listening to the same Josh Ritter EP on repeat. It was one of those instances in which you feel perfectly content and happy with exactly where you are. You don't get those moments everyday so I really soaked it in.
We played at this cool little venue called The Art We Are in Kamloops and had some amazing black bean soup, quinoa salad and black coffee. I shared the stage with Victoria's Chris Ho. He is a very talented singer/songwriter who is doing well for himself. I learned some things from watching his set. A friend of mine was having a house warming party so we went there after the show and had a couple drinks and snacks.
I'm starting to feel at home on the road. I'm really happy to have such a strange adventure ahead of me. I'll be sure to keep you posted.
Cheers,
Tanner