Dear superfriends,
I took a two week digital detox vacation to Belize. I hate phones and computers yet I'm the guy who spends way more time than I care to admit on Facebook, Twitter and sending emails. It was such a trip to leave all that behind for two weeks. My head felt so much clearer and I felt like I could really listen and connect with people on a stronger level.
We started the trip in Placencia, which is a perfect little coastal town in Southern Belize close to the Honduras border. Belize is a pretty quiet place to start with and Placencia is especially slow. 
I had been in Belize before and didn't have a good trip. I was on an island called Caye Caulker, getting certified as a diver and it turned into us sitting around waiting and waiting for clear waters to dive in. During that trip I read Zen and The Art Of Motorcycle Maintenance by Robert Pirsig and Raise High The Roof Beam by Salinger. Both books were horrible choices for someone who had too much time to sit around and think. Needless to say, I was hesitant to try this country again.
This trip I stuck to some safer reading material. I finished off Ender's Game, which was light and fun and I could see how it would be beneficial in getting young adults reading. I also read the most comprehensive Leonard Cohen biography available (which my mom gave me for Christmas). The Cohen story was a great one for the Caribbean, I didn't realize how much time he spent in Hydra Greece and I felt a strange kinship while reading about it in that setting.
I was with my friends Dylan and Calin and we decided to spend our first day on a scenic drinking bike ride. We had these old California cruisers with baskets on the front, which we loaded up the local beverage of choice, Belikin, and set out for the afternoon. We stopped at every nice spot we saw and enjoyed a "Belly".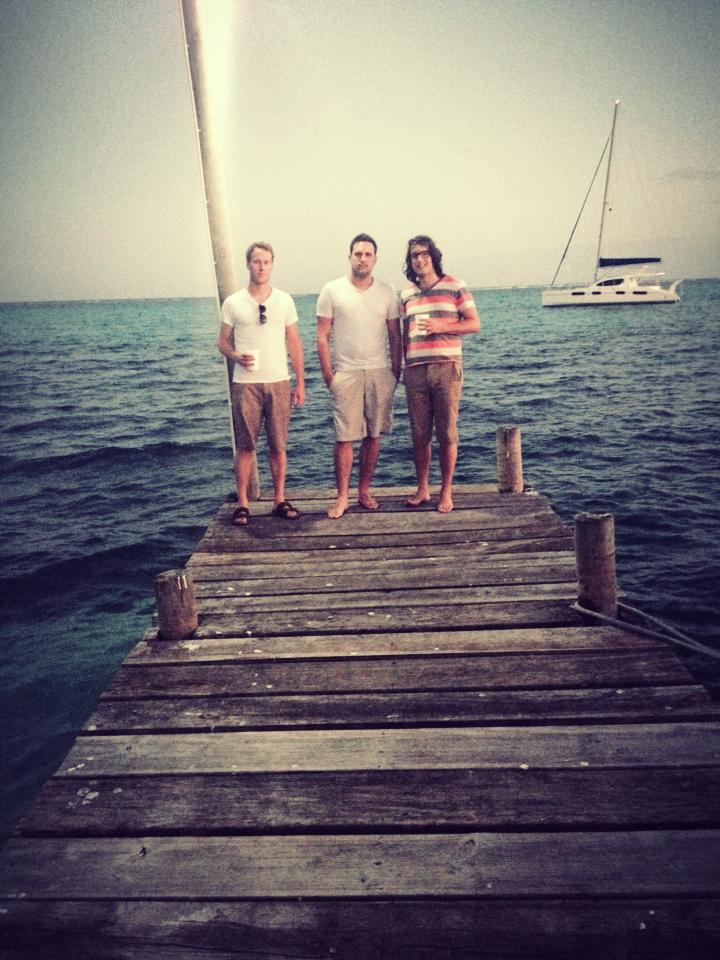 There are so many stray dogs running around, pretty much anywhere I've been in Central America. We got to know so many of the strays in Placencia. There was a gang of about 5 puppies that lived right on the beach about a quarter km from our hotel. They would either great us enthusiastically or terrorize us, depending on their level of boredom that day. There was a beautiful boxer-cross named Fang that looked like the happiest dog on the planet. I wanted to bring him home as a retirement present for my dad.
I like anyplace in which I have the opportunity to integrate with the locals. We ate at a shack on the beach ran by a lady named Brenda. She was such a character, always laughing and singing. We kept singing and yelling at each other and it became a bit of a game, busting each other's chops. 
One morning when I was leaving on a fishing trip, with all the other fisherman at the pier, she yelled, "Hey Tanner, I hope a turtle is going to bite off your left nut". The entire pier burst into laughter. Of course it was said with a wonderful broken english dialect that made it even more offside and awesome. Part of me was worried she put a Creole hex on me (Thankfully, the turtles were not interested in my left nut, or any parts of my body).
During our fishing trip we grabbed some masks and fins and dove for conch (which is basically a sea shell with a meaty, squid like organism inside). We caught a bunch of conch and headed to a small island called Frigid Caye. There was a heavily bearded man there who cracked open our conch with a hatchet and a butter knife and threw them on a grill on the fire. 
Calin boosted me into a tree and we knocked down some green coconuts. We chopped open the tops with a machete and we cranked back some coconut water, which was one of the most refreshing experiences of my entire life. 
It was so great to eat and drink things we were able to catch and experience. I'm still dreaming about that fresh coconut water. 
The island itself was the smallest island I had ever been on. It had a small gazebo with two hammocks and a tiny shack. The man had a small wood canoe and no motor boat. He had the cutest little puppy I had ever seen, which he called "my hound" and then laughed the most triumphant and amazing laugh you had ever seen.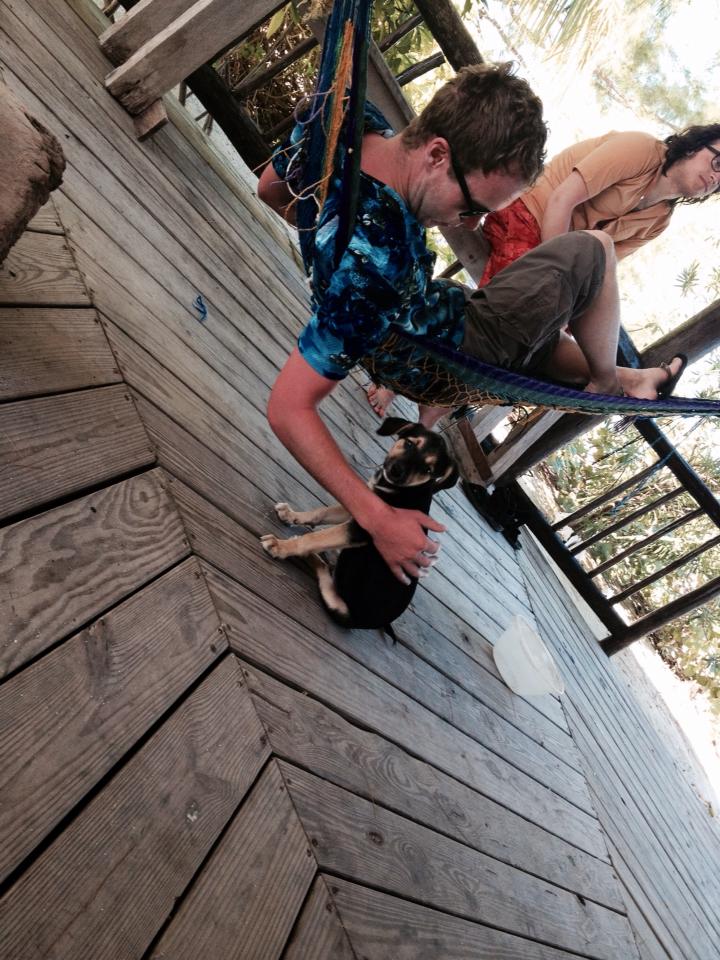 Our fishing guide said that the man lived on islands like that his entire life and knew the waters very well. He even said he paddled his wood canoe to Honduras one time, which would take days on the open ocean.
After helping us with the conch and coconut, the man layed down on a few old pillows he had on the deck of his shack. He smoked thin cigarettes and drank a Belikin. He was reading a book the size of war and peace. It kept running through my head of what it must be like for someone like that to be so isolated and alone, yet so peaceful.
He was always laughing and seemed pretty happy to me, he was surrounded by Caribbean waters and a self-sustaining ecosystem, if treated properly. 
As we boarded our fishing boat and began to leave the Frigid Caye, the man looked at us and said, "thank you for coming, tell your friends".
We laughed at the thought of trying to tell our friends how to navigate to the tiniest island I had ever seen in my entire life. Personally, I would be happy to keep it that way.