Hi super-friends,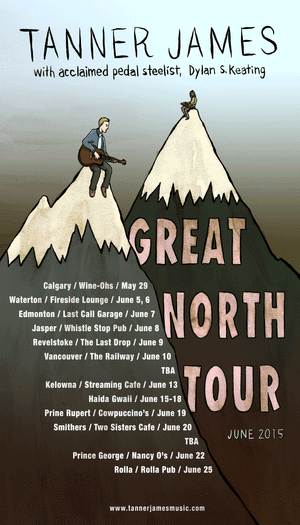 I'll be heading out into some new territory this June. I'll be joined by pedal steel guitarist, Dylan S Keating, for the voyage. We will be travelling from Calgary to Haida Gwaii, Kelowna to Prince George, and many points in between.
As a singer-songwriter I'm always excited about exploring new places. It's part of the fun of it all. Haida Gwaii (or...the Queen Charlotte Islands) is the only place in Canada that Stompin' Tom said he had never been. 
Dylan and I will be performing a bunch of new tunes we've been working on for an upcoming album. Some are already recorded, some aren't. We will be trying to post a great deal of videos and clips to give everyone a taste of things to come.
One thing that will be unique to this tour is the charitable angle we will be taking. In addition to our regular evening shows, we will be performing some free shows at local old-folks homes and seniors centres. We will be tucking-in our shirts, shaving our faces and busting out some classic country in hopes of enriching someone's day.
We will be busy playing shows, hiking, soaking in the local haunts, trying the local cuisine and looking around.
We would like to acknowledge the financial support of Alberta Music. They were kind enough to help us out with a tour grant which helps us out with some of our basic expenses. Touring remote parts of Canada would not be possible without organizations like this. 
My friend Jarett Lee Sitter took care of the tour poster. He's done work for Mother Mother, Said The Whale, Calgary Underground Film Festival and Polaris Music Prize. So if you like the poster then please look him up, buy him a beer or give him a digital high-five.
Listed below are our current shows. We do have a couple holes left to fill. If you know anyone who would like to host a house concert, don't be shy. 
May 29 - Calgary - Wine Ohs
June 5/6 - Waterton - Fireside Lounge
June 7 - Edmonton - Last Call Garage
June 8 - Jasper - Whistle Stop Pub
June 9 - Revelstoke - The Last Drop
June 10 - Vancouver - Railway Club
June 12 - Squamish - Howe Sound Brewery
June 13 - Kelowna - Streaming Cafe
June 14 - 18 - Haida Gwaii
June 19 - Prince Rupert - Cowpacinos 
June 20 - Smithers - Two Sisters Cafe
June 22 - Prince George - Nancy O's
June 25 - Rolla - Rolla Pub
June 26/27 - Private Event