California
I had just crossed the border to drive to Nashville TN when I got an email from the Calgary Folk Fest Songwriting Contest letting me know I got into two separate categories to perform for the finals. I wasn't really expecting this and it forced me to decide on the fly what I should do. Folk fests are my goal so it was a good opportunity to network and potentially win a little money.
I made a rash decision to head to L.A. and visit some friends and return for the competition and then, finally head down to Nashville. It was one of those fast decisions that ultimately makes a bigger impact then you initially expect. I'm facisnated by decisions. One decision can ultimately change the lives of you and everyone around you. This fork in the road really changed the course of my adventure and it was for the best.
A long lost aunty lives in Billings Montana so I stopped there the first night. It was really cool to catch up with her and I had a real good feeling about everything. The next two days of driving were strange. It was my first time being on the road by myself for a long time and I suppose you could say I was adapting. There was an accident on the highway after Vegas and I only moved one mile in an hour and a half. I decided to pull over and stay in the next town I saw. It turned out being this little Vegas-rip-off called Prim Nevada. It was like a truckers Vegas, on the plus side, I was able to get a nice room for $40. A strange storm was brewing outside and it felt like the apocalypse. It was so windy outside my room it was making me uncomfortable. I went to the hotel gym and decided that Prim Nevada is probably the worst place a man could ever die. It was a very surreal experience.
I arrived in L.A. the next day and headed to my friend Sam and Matt's house. Sam is a friend from back home who met Matt while he was on tour doing lighting for K.D. Lang. They are really good people and they put me up for a few days on their couch. The weather was great and I read by the pool and enjoyed some good Mexican food. Matt currently does lighting on Dancing with the Stars so he got us VIP tickets and showed us around backstage. It was such a different experience than what you see on TV. After the taping we went home and watched the episode. It was really educational to see both sides of the coin.
One of my best buddies, Brody, sent me a text message saying that his friend Chad was in L.A. as well and that we should meet up for a drink. I had met Chad once at home and we got along really well. I agreed and met him in Hollywood for that said drink.
He only had time for one beer because he was going to a Dodgers game that evening. We got trading stories and laughing and he mentioned how he had an extra ticket to the Coachella music festival and a house rented in Palm Springs. I made another rash decision to take Chad up on the offer. He went to the game and I drank about six beer and watched some a really bad movie called Wanderlust. When he came back we went out on the town and ironically met a guy and a girl from Calgary. We ended up having drinks with them and then they drove us back to Chad's hotel. They came in for a beer and I ended up playing half a set of music. It was really fun.
The next day we headed to Palm Springs and got the keys to the house. Six other guys from Calgary who I had never met ended up being in the house as well. It turned out to be an amazing good time. I got a steal of a deal on the accommodations and tickets, about 10% of face value. The other guys in the house were amazing people. So much laughter and such a great place. The festival was everything you could ask for. People were kind and the bands I saw blew me away. Admittedly, I probably spent too much time in the beer gardens and not enough time watching bands.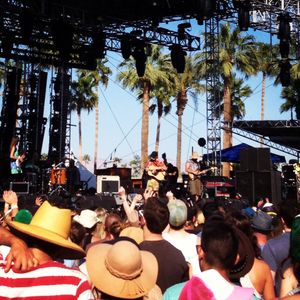 I met some rad people who I will probably hang out with for a long time. Magical little trip all around. Chad got wasted on the last night and cancelled his flight and drove the entire way home with me up the coast. What a beauty! It was nice having him for the 34 hour drive (we took the scenic route).
I got back to Calgary and played a little pub gig to make some money. The next two days I competed in the song contest and got a 2nd place in the Places and Spaces category. That was a good feeling. I went home on the fourth day and drove tractor for my dad. I spent four days in Alberta total and then headed back on the road.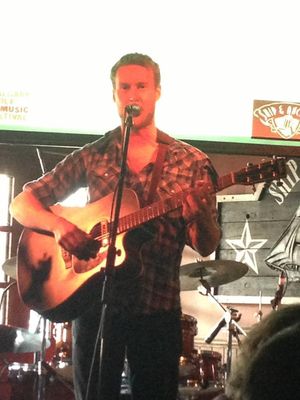 I got plenty of stories for you...stay tuned.
Cheers,
Tanner