The Scarf
(Disclaimer: Thanks for reading my blog. I just wanted to say that if you enjoy my rants then please sign up for my newsletter here. www.tannerjamesmusic.com . I post even more zany stories from the road as well as tour and record announcements. Hell, I even send out Christmas cards.)

I was having a crisis of the spirit the other day. I recently turned 29-years-old and was questioning my abilities as a singer-songwriter. I have been watching my peers get married, start families and commit to their day jobs and begin careers. I had a feeling of being left behind at 29. I left a good job to pursue music and was wondering if I am a delusional person or if I am on the right path. 
I recently had a relationship fall apart. This may or may not have contributed to me second guessing my career path and lifestyle choices. I was told that my music career had nothing to do with the choice to throw in the towel, but I had to at least entertain the idea that it actually did.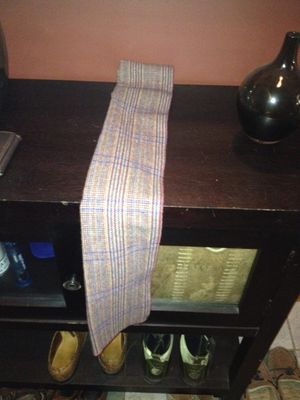 I had a relatively slow November and December so I decided to pick up some holiday shifts somewhere. I was hired to help with catering in the dining rooms and conference halls at the Calgary Zoo. It is a shitty, low-paying job that I took in order to justify not being on the road as much as usual. On one hand, I am grateful that I can pick up a few shifts and continue to do what I enjoy, yet on the other hand I feel like I've payed my dues and that I shouldn't have to work shitty jobs at all. 
When I am at work I just try to think of Edward Norton in the movie Fight Club. If it was good enough for him and his alter ego, then it must be good enough for me. Plus, it ends in January anyhow. The job ends, not Fight Club. As far as I know Fight Club is timeless. 
I'm sure it was an accumulation of a failed relationship, a shitty new temp job, the onslaught of Canadian winter and a poor attitude, but I was feeling particularly awful one day last week.
I had to drive out to Red Deer this same day and play a solo show. It was cold and I was second guessing everything. It was one of those days.
Feeling morose and self-indulgent, I headed into the venue and loaded in my gear. On top of this, I should mention that I took the month of November off drinking. I couldn't even have a drink to blow off some steam.
Well it just so happened that this was a particularly warm and inspiring gig, which just so fell upon a particularly cold and lonely day for me. People were great, the show went off without a hitch, I enjoyed myself and was payed fairly.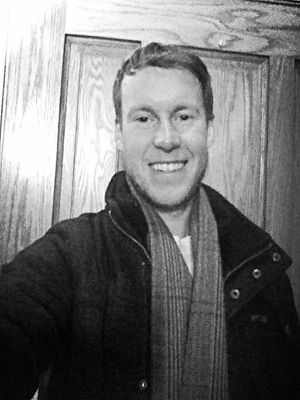 In the middle of the gig an older French couple came up and told me how much they appreciated my music. The man said that I had brought his wife to tears during one of my songs and that it was there 18th wedding anniversary. The man asked me if he could give me his scarf as a token of their appreciation. He said it was from Quebec and it was a very special scarf; handmade with traditional colours and fabric.
I accepted.
And just like that everything was right in the world. 
I've barely taken the scarf off since. It's my new favourite. It reminds me what I am supposed to be doing with my life.
The Scarf.